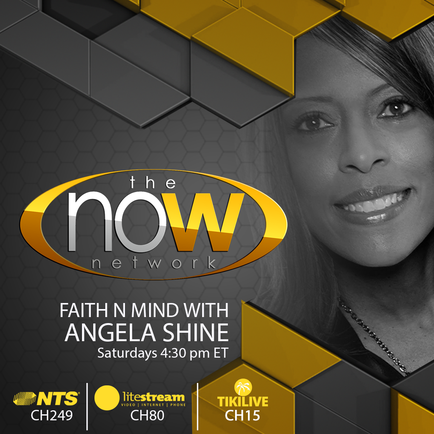 Faith N Mind television show is a social outreach program of Radical, Inc. that's ready to "talk" about mental health awareness!
​Go to
www.faithnmind.com
to learn more about the television show!
Faith N Mind'is a national mental health awareness television show for the MIND, BODY & SPIRIT.
Angela L. Shine, LMSW, discusses mental health awareness with a variety of national and local guests, and professionals specializing in mental health and related health/wellness fields. Angela is a highly respected mental health professional who specializes in working with interfaith organizations and communities. She brings creativity, skills, and getting things done to the "frontline" to promoting "Lifelong Solutions For A Mentally Healthy America."
So, sing along with me..."For A Mentally "FIT" America......Keep FAITH N MIND.....Keep FAITH N MIND........ Keep FAITH N MIND!"
Resources: Services Offered
Business and Community Health Fairs, Wellness Activities and Events - Duration As Needed | Website; social media | Format: According to audience, organizations, etc. | Objective: Provide preventive and collateral mental health awareness information regarding mental illness, acute/chronic disease, prevention, treatment and linking those in need to quality treatment services and options.


Educational Workshops, Seminars and Events - Duration As-Needed | Format: 1 to 2 days | Objective: Providing educational and resources for optimum personal and professional growth. Topics upon request; Specialities: Interfaith, faith-based, cultural competency, ACE, music therapy, trauma-informed, domestic violence and substance abuse


Collateral Services, Case Management and Referrals - Duration On-going | Format: Toll Free Number, websites, events and social media | Objective: Building trusted working relationships and providing effective advocacy, treatment options and strategic planning.


Mental Health First Aid Courses - Duration 1 or 2 days | Format: 8 hour certificated Adult and/or Youth courses with interactive activities, 5 step Action Plan and resources | Objective: To provide support to someone experiencing a mental health or substance use problem.
Social Media - Duration daily | Format: Facebook pages created to engage, promote and engage with multicultural audiences to increase mental health and total wellness practices. Faith N Mind facebook page promotes a "Daily Mental Health," "Did U Know." segments which garners over 5,000+ weekly viewers and fans. Radical, Inc. & Faith N Mind have created another page to promote interfaith organizations from across the country to promote either their mental health and/or health & wellness events and activities.




---
---